DOES HIGH INTENSITY ELECTROMAGNETIC THERAPY REALLY WORK? - CLINICAL STUDIES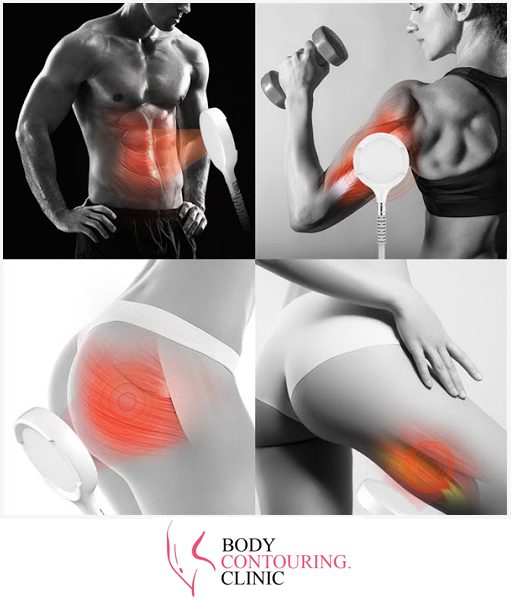 There are many clinical studies that show HIGH INTENSITY ELECTROMAGNETIC THERAPY works to reduce fat and tone muscle.
High intensity electromagnetic therapy evaluated by magnetic resonance imaging: Safety and efficacy study of a dual tissue effect based non-invasive abdominal body shaping
Objectives: This study introduces an initial evaluation of a novel high intensity electromagnetic therapy. The primary goal is to quantify any effects the treatments may have on abdominal tissues, as well as to establish hypotheses for future research of this technology.
Results: Analysis of the same MRI slices verified by tissue artefacts showed a statistically significant (all P < 0.0001) average 18.6% reduction of adipose tissue thickness, 15.4% increase in rectus abdominis muscle thickness, and 10.4% reduction in rectus abdominus separation (diastasis recti) as measured from the medial border of the muscle 2 months post-treatment. More significant improvements were observed in patients with BMI 18.5-24.9 (classified as "normal"). MRI data from 6-month follow-up suggest the changes can be preserved in longer term. Tape measurements showed on average 3.8 cm subumbilical circumference reduction. The weight of the subjects did not change significantly (average -0.5 lb; P > 0.05). No adverse events were reported.
Conclusions: MRI, considered as a highly precise diagnostic method, revealed simultaneous muscle growth, fat reduction and reduced abdominal separation at 2 months and at 6 months post treatments, unrelated with dieting. Further research should investigate the exact physiological processes which stand behind the tissue changes observed in this study.
Lasers Surg. Med. 51:40-46, 2019. © 2018 The Authors. Lasers in Surgery and Medicine Published by Wiley Periodicals, Inc.
BOOK A FREE CONSULTATION TODAY
Ultrasound Assessment of Subcutaneous Abdominal Fat Thickness After Treatments With a High Intensity Electromagnetic therapy Device: A Multicenter Study
Background: High intensity electromagnetic therapy is intended for muscle toning, firming, and strengthening.
Objective: The goal of this study is to quantify the effect of high intensity electromagnetic therapy on subcutaneous fat.
Results: A significant reduction in the subcutaneous fat thickness across the abdomen was observed, averaging 19.0%/4.47 ± 3.23 mm (p < .01) at 1 month after treatment and 23.3%/5.78 ± 4.07 mm 3 months after treatment. At 1 month, the most significant reduction in subcutaneous fat was measured subumbilically (26.6%/6.25 ± 4.70 mm; p < .01) and epiumbilically (21.6%/5.08 ± 3.69 mm; p < .01). No discomfort was reported, and 91% of study participants were satisfied with their result.
Conclusion: Based on the ultrasonographic and photographic observations, the authors conclude that the application of a high-intensity electromagnetic field is an effective option for the noninvasive treatment of subcutaneous fat.
Dermatol Surg. 2019 Dec;45(12):1542-1548. doi: 10.1097/DSS.0000000000001902.
BOOK A FREE CONSULTATION TODAY
A German Prospective Study of the Safety and Efficacy of a Non-Invasive, High intensity Electromagnetic therapy Abdomen and Buttock Contouring Device
OBJECTIVE: This study evaluated the efficacy of a novel treatment method utilizing high intensity electromagnetic therapy in reducing fat and strengthening the muscles in the abdominal and gluteal areas.
RESULTS: Two months after the treatments, ultrasound measurements showed, on average, a 15.7-percent reduction of subcutaneous adipose tissue and an average increase in the thickness of the rectus abdominis muscle by 26.1 percent. The abdominal circumference of the treated patients showed an average decrease of 2.84 centimeters. Immediately following the final session, the patient's satisfaction was 87.5 percent; eight weeks later, it was 100 percent. During the patient evaluation of photographs, 25 percent of the patients rated their appearance as improved, 66.7 percent as significantly improved, and 8.3 percent as greatly improved. Using the Global Aesthetic Improvement Scale, the medical practitioners rated the patients as 100-percent improved. No relevant side effects of the treatment were documented.
CONCLUSION: The data collected on the high intensity electromagnetic therapy evaluated here are in line with the results from clinical studies and applications of this treatment in the United States. These results support the efficacy and tolerability of the high-intensity electromagnetic procedure. The treatment achieved high doctor and patient satisfaction.
J Clin Aesthet Dermatol. 2021 Jan;14(1):30-33. Epub 2021 Jan 1.
BOOK A FREE CONSULTATION TODAY
High Intensity Electro-Magnetic Technology for Non-Invasive Buttock Lifting and Toning of Gluteal Muscles: A Multi-Center Efficacy and Safety Study
Objective: Surgical intervention has been the only method to improve the aesthetic appearance of buttocks apart from physical exercising. This study evaluates the efficacy of high- intensity electromagnetic treatments as a non-invasive solution for improvement of buttocks through toning and lifting of gluteal muscles.
Results: The overall buttock satisfaction score (range, 4-28) of all subjects improved from 13.1±5.7 at baseline to 18.4±5.2 after the treatment and 18.9±5.1 at follow-up. For subjects with initial buttock dissatisfaction the scores improved from 8.7±1.6 to 16.3±3.1 after the treatment and to 17.3±3.1 at follow-up. The average score of all treatment satisfaction questions (range, 1-7) was 5.2±1.2 immediately after the treatments and 5.1±1.3 at follow-up. In total, patients initially dissatisfied with the appearance of their buttocks reported a significant 85% improvement after the fourth treatment. Immediately after the fourth treatment, all the subjects reported that their buttocks felt more lifted and toned. Results were maintained at one-month follow-up. Weight of the patients didn't change significantly. Digital photographs showed aesthetic improvements of the buttocks for most of the patients. No adverse events were reported.
Conclusion: The results show that the investigated device safely and effectively improves the aesthetic appearance of buttocks non-invasively. The treatments not only resulted in a significant visual improvement but also increased patient confidence and satisfaction. The procedure is suitable for patients seeking improvement in tone, shape, lift, and tightness of the buttocks.
J Drugs Dermatol. 2018 Nov 1;17(11):1229-1232.
BOOK A FREE CONSULTATION TODAY
*DISCLAIMER: As with any treatment, some clients will achieve better results than others. Results vary and cannot be guaranteed. Lifestyle, diet, and exercise are a contributing factor to the success of this body contouring treatment.